Holi is a Hindu spring festival, also known as the festival of colours, when people smear each other with colours.It is celebrated by Hindus in India and Nepal, but in recent years, this festival has become increasingly popular among non-Hindus, as well as in the rest of the world in many parts of South Asia. Please take a look at our photo gallery of the Holi celebrations at CBitss Technologies.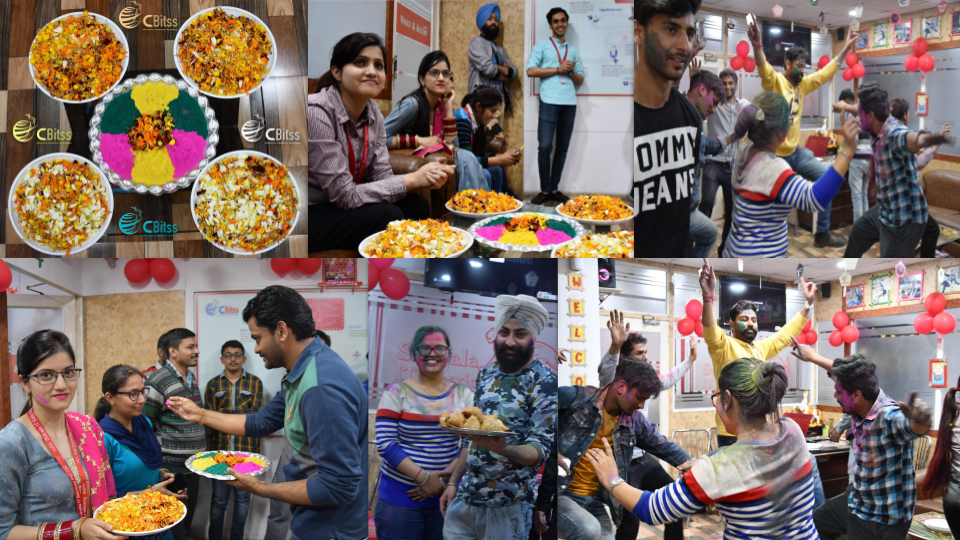 Students of CBitss Technologies celebrated Holi with lot of joy and happiness throughout the Labs & Office corridor. Celebrating Holi, with Flowers is an awesome idea which is loved by all
It is unique concept which fill all with positive energy. Holi is festival of colours was given a peaceful mishmash with organic colours and floral petals of beautiful essence and hues at the Institution. It was a divine and an exhilarating experience for everyone who participated in the feast for the soul and the senses. The celebrations were reiteration of the idea for everyone to play a safe and environment friendly Holi and to say no to toxic colours which are harmful for skin and overall health for natural existence.The function began with lamp lighting & spiritual prayer.
Mr Navneet Sharma Director of CBitss Technologies gave the message to the students for celebration of safe Holi. He informed the students that Holi is celebrated all over India to mark triumph of goodness & virtue over the evil designs.
Students danced on the tunes of famous Holi numbers. Trainers informed the students about the precautions to be taken while playing Holi. They were also encouraged to play dry Holi to save water.